PETER HÜBNER
Music according to the Harmony Laws of Nature
MEDICAL RESONANCE THERAPY MUSIC®
Scientific Research of the Cosmic Harmony Laws of the Microcosm of Music
FOURTH GENERATION
VEDA HEALING SONGS integrated
RRR 103 Disorders of the Hormone & Immune System No. 1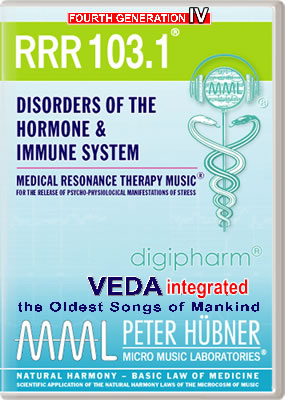 16 Bit
listen to a music sample
On the basis of objective scientific research and clinical observations, the program "Disorders of the Hormone & Immune System" is designed for people who suffer from diabetes, cancer, thyroid problems, rheumatism, arthritis and allergic problems, if they are STRESS-related.

A Digital Studio Recording Under the Artistic, Scientific and Technical Direction of the Composer and Musicologist Peter Hübner.

total playing time: 69:44 Min.