PETER HÜBNER
Music according to the Harmony Laws of Nature
MEDICAL RESONANCE THERAPY MUSIC®
Scientific Research of the Cosmic Harmony Laws of the Microcosm of Music
FOURTH GENERATION
VEDA HEALING SONGS integrated
RRR 101 Vital Energy No. 1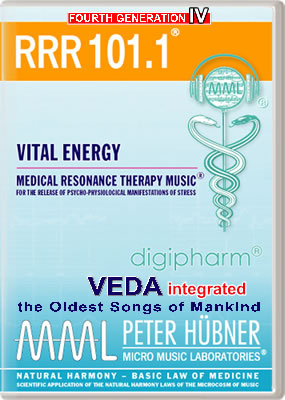 16 Bit
listen to a music sample
On the basis of objective scientific research and clinical observations, this program "Vital Energy" is designed for people who suffer from STRESS-related exhaustion and "burnout syndrome", who want to increase their vitality, who want to support their recovery and who want to reduce their drug use (of course, only in consultation with the doctor).

A Digital Studio Recording Under the Artistic, Scientific and Technical Direction of the Composer and Musicologist Peter Hübner.

total playing time: 69:59 Min.